Posted by James on 10th Mar 2022
My first, last and favourite find – Part 2
Part 1 featured the story of my first ever record, you can read all about it here. This time around I am going to look back at the last record that I bought. Owning and running a record store you have the opportunity to add to your record collection, but for the purpose of these blogs I wanted to concentrate on records that I had physically bought in record shops around the world, so part 2 goes back some years and travels a few miles from England's shores.
Roxette – Look Sharp (2019)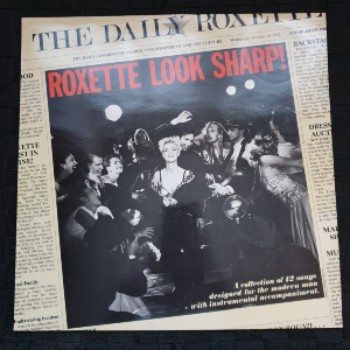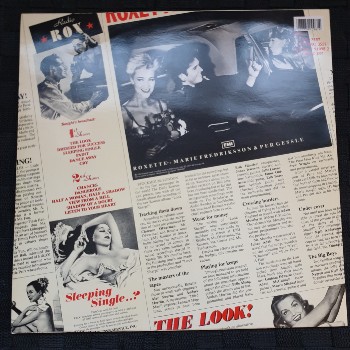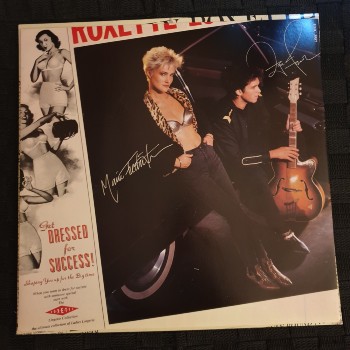 Prior to running Travelling the Groove records I had the pleasure of working in the travel industry (quick shout out to everyone that I know still working in travel). My role was to visit different destinations and find hotels for our customers and activities they could experience whilst visiting (tough job but someone had to do it) In 2019 I was working for a Scandinavian specialist, looking after Norway, Sweden, Finland etc. and I was due to travel to the coastal town of Alesund on the West coast of Norway. Whenever I had a trip booked one of the first things I would do is try and find out if there was a record shop I could visit, no matter how small or in the middle of nowhere the town was. You'd be surprised at the places where you can find a record shop.
My investigations found three 'record shops', I use the term loosely here as the first two that I visited were more like antique centres with a section full of old records that were mostly past their best, you know the type of place. Some interesting finds in both, but nothing worth dropping some coins on. The third stop on my quest brought me to what I had really been looking for, a proper record shop which went by the name of 'Jukebox', and what a smorgasbord of delights this place turned out to be. The front window display alone could have kept you busy with discoveries. E.T dj'ing in one corner, life size cardboard cut-out of Elvis in the other, bookending the most amazing collection of 60's and 70's stereo's, model cars and coloured vinyl. Whilst over your head shop lighting had been encircled by 7 inch singles and a turntable had been screwed to the roof; apparently the front window changes regularly and is quite a draw.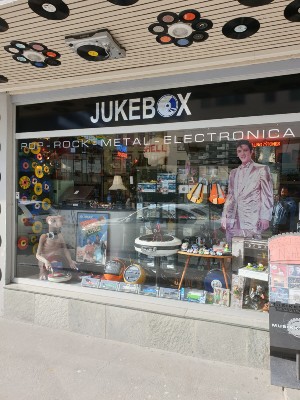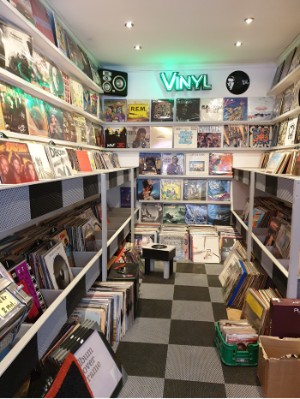 Stepping into a shop with such a crazy exterior you wonder what the records inside are going to be like, I needn't have worried. Inside was wall to wall with vinyl literally. It was displayed on the walls, in split level racks, in old record boxes and in rows on the floor, but everything had an order to it, even the records on the floor were neatly stacked. Normally there is nothing worse than having low level racks or records on the floor to flick through, it usually means either kneeling down or sitting on the floor but not here. Scattered around there were these little stools, just tall enough to be comfortable but low enough to be able to flick through the records, even the ones on the floor (if you zoom into the interior photo you can see one of the stools at the back on the left).
I started with the new records, as they were closest to the door, there were plenty of the latest releases and I was surprised to come across albums with the 'Record Store Day' sticker on them. Chatting with the owner a little later, he told me that he takes part in RSD every year and customers travel from all over the area to buy. At this point I should explain that Ålesund is surrounded by water, with the routes out to the North Sea on one side and the Hjørund and Geiranger fjords on the other, with only one main road in or out of the town. The easiest way to get here can be by boat if you don't live in town! If you want to buy records in this part of the world it takes a little more effort than you or I may have to endure.
Moving onto the second-hand selection was like heading to a one trader record fair, there were all types of genres to browse through, including Latin, world, classical (some of those bad boys were on thick vinyl), traditional Scandinavian, plus the usual joys of Jazz, pop, reggae, prog and on and on. I was running short on time by this point and had to be selective about the sections I looked through. Nothing caught my eye as I had a quick dive through the rock/metal and electronic sections, my go to genres for different reasons. The Jazz section left me with a couple of possibilities, but I thought I would have a scan through the pop records, you never know what ends up in there, and it was here that I found my last record bought. A pop record, you have to be joking, but stick with me here.
I had been a fan of Roxette in my teenage years, even then I wasn't particular about the type of music I listened to, if I liked it I played it. 'Look Sharp' was something that I had on CD, and still do, but I had never bought it on vinyl and never seen a copy in shops or at record fairs, they were rare in my opinion (cue the "we have a copy in store" from multiple traders). It was one of those CD's I played to death, probably because as a teenager I thought Marie Fredriksson was stunningly beautiful. There also seemed a certain irony in buying the album from a Swedish band in Norway. The cover was in really good shape and the record itself, not a mark on it, bullseye. For the small price I paid it was a worth the time and effort to find the shop. It just goes to show that no matter where you are in the world, if you can find a record shop you never know what you might find.
Marie Fredriksson sadly passed away later that year, following a long battle with cancer, but she had an amazing voice that left us with some beautiful songs. We all probably remember "It must have been love" from the movie Pretty Woman, but her solo albums in Swedish are also worth a listen.
Once again I seem to have written a novel about my trip to Norway and my last record bought. If you ever get the chance to visit the country, it is well worth it. Next time it will be the final part of my story and move onto my favourite find and the record shop from which I bought it. The question is where will my travels take me to this time?